Arguably the worst plan of all time, overheard at work:


"When I was in high school, my friend and I saw The Faces of Meth and decided to do crystal meth for five weeks just so we'd be able to buy beer."
-Alex

For a lot of kids it might actually be easier to get meth than alcohol, so maybe it isn't that farfetched. Either way, what an amazing scenario for a comic strip or South Park episode.

In other news, after working with an amazing Czech tattoo artist/painter for several months, I've decided to get a tattoo. I never thought I would get one, but it would be quite an honor to have an incredible person like Kamil tattoo me. I wasn't sure what I would get, but yesterday it came to me: Salvador Dali's burning giraffe, from The Burning Giraffe: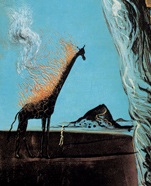 Dali described the image as "the masculine cosmic apocalyptic monster" and believed it was a premonition of war.